Please join us with Urologist, Dr. Robert Chan for an exciting discussion and breakfast at our Woodlands Office, Saturday September 9th at 9:00 am.
---
Our Topic: Erectile Dysfunction
---
We will highlight one of the latest treatments for erectile dysfunction, the Penis-Booster Therapy. If Viagra and Cialis pills are not working or they are too expensive and you wish not to give yourself shots in the penis, then this may be a great alternative. It works by using acoustic shock waves to create new blood vessels in your penis which allow your penis to become firm for intercourse.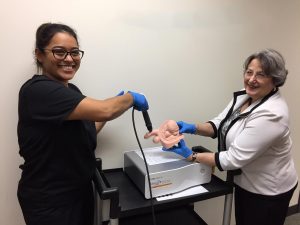 We introduced this technology, which has been in use in Europe for 15 years, to our practice several weeks ago. The results have been amazing.
Our first patient, who had not had morning erections for years, began to have spontaneous erections after only the second treatment. Now, he is
getting erections firm enough for intercourse without needing to take medications. Other patients since then have shared the same experience.
RSVP: To RSVP for the Breakfast with a Doc this Saturday, September 9th at 9 am, simply email [email protected] with your name and phone number.
Location: Woodlands office located at 135 Vision Park Boulevard, Shenandoah, Texas 77384 If you are unable to make it, but want to try an initial complimentary treatment session, email us at [email protected] with your name and phone number. Our schedulers will call you to arrange an appointment.
If you would like to learn more about the Penis Booster Therapy please visit our Erectile Dysfunction page on our website. Here ►

---